Yesterday I locked the door for the last time on my apartment. It was the place I'd lived the longest since I left my parents' house at 17 to go to college (a relatively paltry 26 months).
The place was spotless, and it was no longer my home.
---
An anecdote: I moved to DC just about four years ago into an apartment in an L-shaped building. I lived at the tip of the short arm of the L. For various reasons, a year later, I moved into a unit near the crook of the L. For other various reasons, nine months later, I moved into a unit halfway down the long arm of the L. Now, I have moved to an apartment at the tip of the long arm of the L. How to extrapolate where I'll go next? Will I be flung off the long arm? Whither?
When I lived in the apartment at the crook, I had a commanding view down over the interior courtyard and over the city blocks beyond. There is an apartment with an oversized patio at the top of the long end of the L. While I looked down from the crook, I sometimes saw the woman who lived in the apartment with the patio sunning herself. She was pregnant. She would lie on her outdoor couch and rotate herself, her belly gleaming with sunlight.
The next time I looked down on them, from the place I stayed for 26 eventful months, she was holding her baby.
That's my patio now.
---
I can be a little philosophical about it now, because I'm sitting in a room that has been unpacked. I feel calm and in control of my life. This is very unlike the state of mind I have been in for the last four days, and which I will continue to be in as boxes and furnitures need moving. As the floor becomes inexplicably dirty (do I exude these particles from my feet? How else to account for it?) As I find, at the base of bag after bag, bizarre little trinkets I need to meditate over for ten minutes before I can convince myself to be rid of them:
Take, for example, a keyring I found. I don't know when I acquired it. It must have been a gift. It is a gleaming hematite finish, and it has the Cal logo on it. It's a nice-looking keyring.
I have a keyring already. I do not need another. I do not need to add weight to my keyring by adding this one. I do not know anyone who needs a Cal keyring (although if you do, fair reader, please let me know very soon). I should get rid of it.
Or…
I could put it in the bottom of a different bag, with different random items, and surely someday in the future I will find a use for them.
Surely I will not, next time I move, curse myself for doing this time after time. No, this keyring is unlike all the other knickknacks and old papers and broken pencils and unclaimed spare keys that I've hated lugging around in the past. This keyring is something different: a potentially useful object. There is no worse sin than to purge a potentially useful object.
Look at this scarcity mentality that demands I shove these potentially useful objects into the backs of bags in drawers. It bears no resemblance to the reality of actual abundance around me. There are keyrings aplenty if I need them. And next time I need a keyring, am I really going to go searching through all of the bags full of potentially useful objects? Do I even remember that such bags exist, when it isn't currently time to miserably move them place to place? Sadly not.
Friends, I have moved somewhere between 17 and 26 times in the last 14 years, depending on how you count. You'd think I'd be excellent at it by now. I am not. Catch me a few hours ago trying to negotiate keeping both of the dish-draining boards and all of the plates from both our houses.
A plague on that behavior.
So hold me accountable to this next time: I'm changing my ways. I'm saying goodbye to items that once served me and no longer do. I'm going to haul less out of this place than we just hauled in, or else I'm coming out feet-first.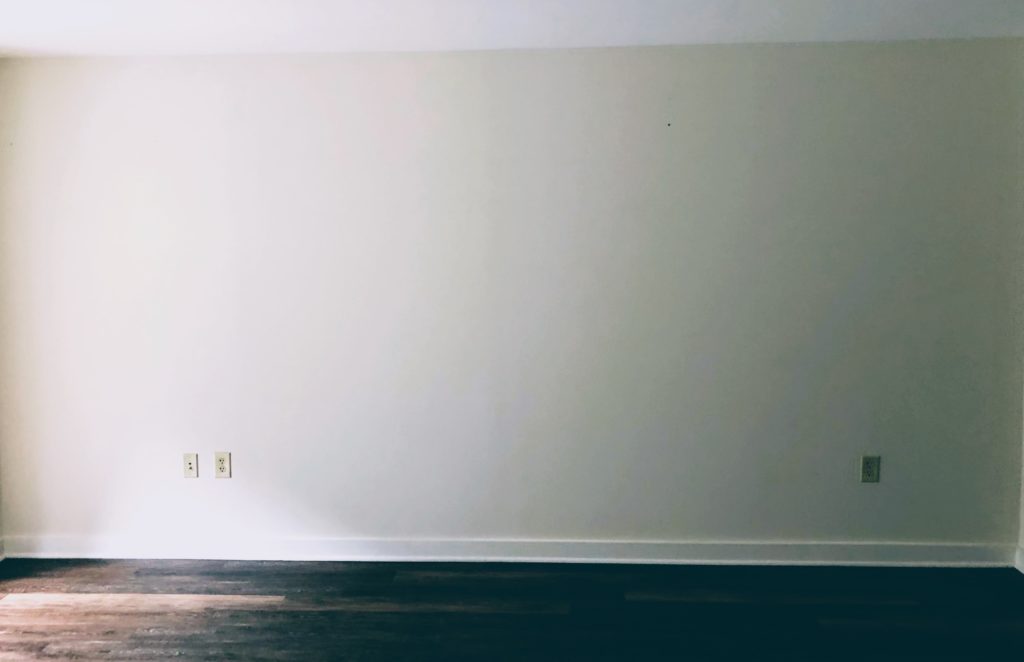 And to you, empty room, I say: thank you for the last two years. Good luck with your new folks.