Y'all know I love thinking out loud about time.
Today is Easter. What does this fact mean to you? Perhaps it brings up memories of egg hunts and pastel-foil-wrapped chocolates. Perhaps it is a fact of deep religious significance, a time of hope and joy. Or maybe it reminds you of a time in your past you'd rather forget. Quite possibly, it means nothing to you.
For me, the religious calendar is a rich source of meaning: it layers over whatever is going on year to year, encouraging us to consider what it is to feel joy, grief, hope, regret, as our lives shift and change. Opening up to this kind of ritual pattern can be meaning-making. It opposes the robotic sameness that can permeate everywhere and every time. It forces us to look a little harder and see what is going on beneath what is going on.
On Friday, Good Friday, we cloaked ourselves in ritual grief and loss, forgetting the coming ritual joy of Easter Sunday.
Sometimes, like now, there is a wide gap between the message of the day and what it feels like to be living in it. It may be Easter on the calendar, but the circumstances feel a lot more like a prolonged Lent with no end date in sight.
I'm not sure where to go from here. I'm writing today's post live with no plan. I feel a little glum and uninspired.
But then I watched the live Easter service from my boyfriend's hometown church. The pastor was outside at the chapel in the woods, and in this living room the windows were open, and I couldn't tell which of the birds were singing outside here and which were with her. That's a bit of hope.
Then, because why not, I watched my own local church. The humans inside were few: just the priest and his wife, the assistant priest, the organist, a liturgist, and the camera operator. A tot of wine in a coffee mug and an Oreo stood in for the Eucarist. (Eucarish?) But the sanctuary was splendid with candles and white cloths and flowers surrounding the cross at the altar. And the organ fluted something mighty. The few humans in the sanctuary shouted and clapped as the phenomenal postlude came to a close. That is something.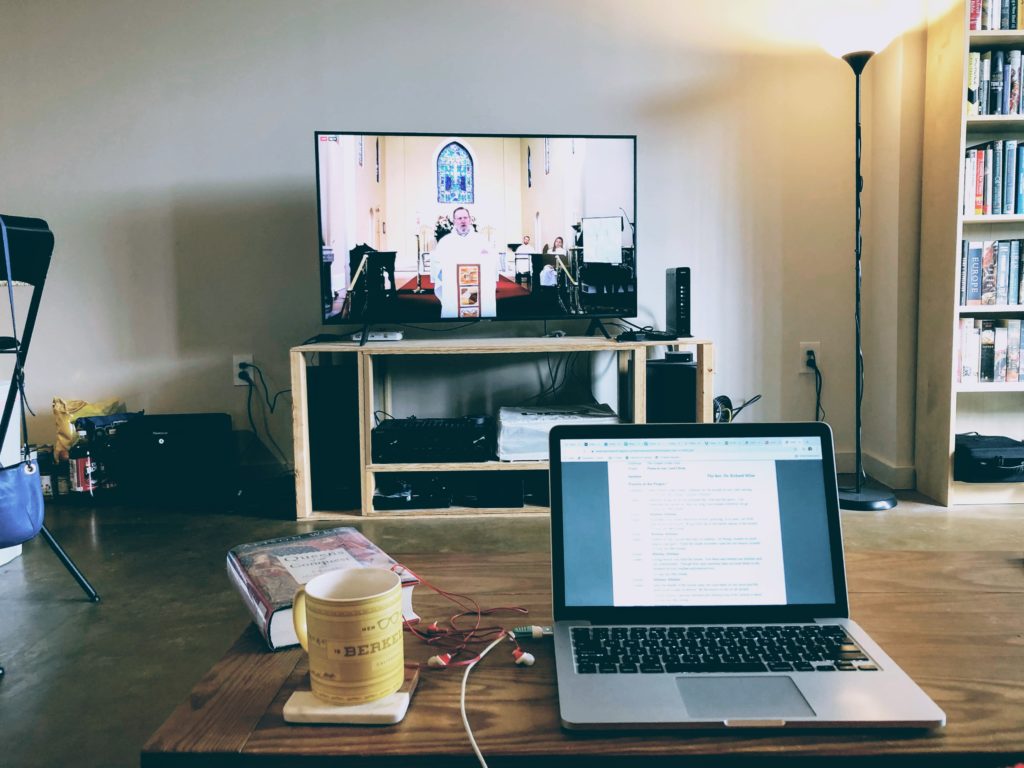 ---
Thankfully, Easter is less a cause of political shouting than Christmas. But like Christmas, the reality of Easter is a syncretic mish-mash of sacred and profane, ancient and modern, spiritual and consumerist, Jewish and Christian and pagan.
A lot of us can't stomach contradictions like these. Perhaps because a lot of religious types insist white-knuckled on the purity of their traditions, any syncretism, any muddiness, is an invitation for the irreligious to roll their eyes and disprove the religious. Take Easter: its very name in our language has nothing to do with its Christian content. It is likely the name of a Germanic pagan goddess of dawn. The Christians evangelizing in the British Isles must have shrugged and retained her name and the trappings of her spring celebrations, which overlapped credibly enough with the passover.
And now, we're doing some bizarre mix of all of it: celebrating the Christian resurrection of Christ on a date tied to the Jewish passover, with all kinds of spring fertility rituals that clearly have nothing to do with either of those things. (Etymonline reports primly that "the paganish customs of Easter seem to have grown popular c. 1900; before that they were limited to German immigrants.")
But if we can find a way to blend all of these things together in a more or less stable solution, albeit one that forces us to explain to bewildered children what bunnies have to do with eggs, and what eggs have to do with Jesus, then I guess we can find a way to make meaning out of a really weird Easter.
Hallelujah anyway, as they say.